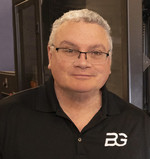 Tom Wagner, Ph.D.
Chief Executive Officer and Director
Thomas Wagner has served as our Chief Executive Officer and has been a member of our board of directors since October 2013. Previously, he served as the Chief Technology Officer of iRobot Corporation, a publicly traded robotics company, from 2008 to 2012. Prior to joining iRobot, Dr. Wagner served at the Defense Advanced Research Projects Agency (DARPA), the research and development agency of the U.S. Department of Defense, where he managed programs in artificial intelligence, robotics, logistics, communications, command and control, tele-health, connected devices, and connected intelligent assistants. Earlier in his career, Dr. Wagner served as a principal lead at Honeywell, a professor at the University of Maine and in leadership and advisory roles in small & startup companies. He holds a Ph.D. in artificial intelligence and computer science from the University of Massachusetts Amherst, a M.S. from the University of New Hampshire and a B.S. from Michigan State University.
Peter Barris
Director
Peter Barris has served as a director of Berkshire Grey since April 2016. From 1999 to 2017, Mr. Barris was the Managing General Partner of New Enterprise Associates ("NEA"), a venture capital firm with over $20 billion of assets under management. Under his leadership, NEA invested in transformative technology companies including CareerBuilder, Tableau, Diapers.com, Groupon, Jet.com, Juniper Networks, Macromedia, Salesforce.com, TiVo, and Workday. Mr. Barris also serves on the board of directors of Groupon, Inc. (Nasdaq: GRPN) and Sprout Social, Inc. (Nasdaq: SPT) and is currently a director of several private companies. Prior to joining NEA, Mr. Barris was President and Chief Operating Officer of Legent Corporation and Senior Vice President of the Systems Software Division of UCCEL Corporation. Earlier, Mr. Barris spent almost a decade at General Electric Company in a variety of management positions, including Vice President and General Manager at GE Information Services. He is Vice-Chair of the Northwestern University Board of Trustees and serves on the board of the In-Q-Tel and The Brookings Institute. Mr. Barris has also served on the Executive Committee of the Board of the National Venture Capital Association and was a founding member of Venture Philanthropy Partners, a philanthropic organization in the Washington, D.C. area. Mr. Barris has a BSEE degree from Northwestern University and an MBA from the Tuck School of Business at Dartmouth.
John K. Delaney
Director
Mr. Delaney is a well-known entrepreneur, executive and public policy expert. From 2013 to 2019, Mr. Delaney served as a member of the U.S. House of Representatives and served on the Financial Services Committee and the Joint Economic Committee. In 2000, he co-founded CapitalSource Inc. (NYSE: CSE), a leading middle market lending business, and from 2000-2011 he served as its Chief Executive Officer and Chairman. From 1993 until its sale to Heller Financial in 1999, Mr. Delaney was the co-founder, Chairman and Chief Executive Officer of HealthCare Financial Partners, Inc. (NYSE: HCF), a provider of commercial financing to small and medium-sized healthcare service companies. Mr. Delaney currently serves as the Executive Chairman of Congressional Bancshares, Inc., a banking and lending company, and as the Chief Executive Officer and a director of Revolution Acceleration Acquisition Corp II, a special purpose acquisition company. Mr. Delaney received his undergraduate degree from Columbia University and his juris doctor degree from the Georgetown University Law Center.
Fiona P. Dias
Director
Since 2017, Ms. Dias has served as a member of the board of directors of Qurate Retail, Inc. In addition, since 2013, she has served as a member of the board of directors of Realogy Holdings, Inc. Ms. Dias has previously served on the boards of directors of Advance Auto Parts, Inc. (NYSE: AAP), Home Shopping Network, Inc. and Choice Hotels, Inc. Since 2015, Ms. Dias has served as the Principal Digital Partner of Ryan Retail Consulting. Prior to that, from 2011 to 2014, Ms. Dias was the Chief Strategy Officer at Shoprunner, an e-commerce shopping network. She has also held senior marketing and strategy positions at GSI Commerce, Inc., PepsiCo, Inc. and The Procter & Gamble Company. Ms. Dias has a bachelor's degree in biochemistry from Harvard University and a master's degree in business administration from the Stanford Graduate School of Business.
Sven Strohband
Director
Sven Strohband has served as a director of Berkshire Grey since March 2018. From November 2012 to May 2018, Dr. Strohband served as the Chief Technology Officer of Khosla Ventures, and he has been a managing director of Khosla Ventures since May 2018. He has worked on numerous technologies ranging from autonomous robots, automotive LED front lighting, user interface and display technologies and RFID systems. Prior to joining Khosla Ventures, Dr. Strohband spent six years at Mohr Davidow Ventures, where he started as an associate and became the Chief Technology Officer of the firm, leading the firm's technical diligence process for the infrastructure IT and sustainability practices. Previously, Dr. Strohbald was a project manager for the Electronics Research Lab of Volkswagen in Silicon Valley and the lead engineer and project lead for the Stanford racing team's autonomous car, "Stanley," which became the foundation for the Google self-driving car project and also won the 2005 DARPA Grand Challenge. Dr. Strohbald holds a Bachelor's of Science degree in mechanical engineering from Purdue University and a Doctor of Philosophy degree in mechanics and computation from Stanford University.
Serena Wolfe
Director
Since December 2019, Ms. Wolfe has served as Chief Financial Officer of Annaly Capital Management, Inc. Prior to joining Annaly Capital Management, Inc., Ms. Wolfe served as a Partner at Ernst & Young LLP ("EY") since 2011 and as its Central Region Real Estate Hospitality & Construction ("RHC") leader from 2017 to November 2019, managing the go-to-market efforts and client relationships across the sector. Ms. Wolfe was previously also EY's Global RHC Assurance Leader. Ms. Wolfe practiced with EY for over 20 years, including six years with EY Australia and 16 years with the U.S. practice. Ms. Wolfe graduated from the University of Queensland with a Bachelor of Commerce in Accounting. She is a Certified Public Accountant in the states of New York, California, Illinois and Pennsylvania.